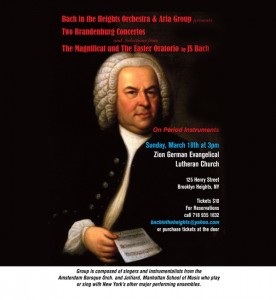 Bach in the Heights, a group of professional musicians assembled and conducted by Brooklyn Heights resident Edward Houser, will perform this Sunday, March 18 at 3 pm. The program will feature two Brandenburg Concertos, and excerpts from the Magnificat (this excerpt is performed on period instruments) and the Easter Oratorio.
The performance will be held at the Zion German Evangelical Lutheran Church at 125 Henry Street. Tickets are $10. Call (718) 935-1832 or email bachintheheights@yahoo.com for reservations, or purchase tickets at the door.
Read our review of Bach in the Heights' Christmas performance here. And follow Bach in the Heights on Facebook and Twitter.