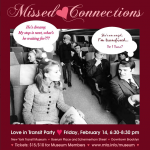 Love the subway system? A particular bus line? Looking for that missed connection? On Valentine's Day the NY Transit Museum will host a Missed Connections Party celebrating the brief encounters and unexpected romances that blossom on subways, buses and trains. You can make a valentine, write a poem, decorate a cookie, and get dating advice from Lori Cheek of Cheek'd.
Brooklyn Brewery is providing beer, and there will be food, drink and raffle prizes from Boylan Bottling, Brittle Barn, Brooklyn Winery, The Chocolate Room, A Cook's Companion and Nunu Chocolates among others.
Time: 6:30 – 8:30 pm
Tickets ($15, $10 for members) available here.
The New York Transit Museum is located at Boerum Place and Schermerhorn Street in Downtown Brooklyn.