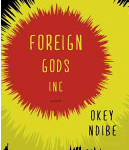 One culture's guardian deity is another's objet d'art, design inspiration or kitsch. Objects that might be worshipped, cared for, and even fed in one location or culture (a shrine in Africa) might still be venerated in another (a vitrine at the Met) but if the context has changed so dramatically, what does that make the object? These and similar cross-cultural currents provide the themes for Okey Ndibe's intriguing new novel "Foreign Gods, Inc."
Ike Uzondu left the village of Utonki in Nigeria behind many years ago in order to attend Amherst College. Ike was a successful student, earning an economics degree cum laude. Unfortunately, he has been unable to translate his academic success into a job. Despite all his efforts, Ike is told that his accent is too strong for the jobs he wants. Instead, he drives a cab in New York, using his meagre earnings to pay for a noisy apartment above a store. Ike has an ex-wife and sends money to his mother and sister back in Africa, and there's never enough. Inspired by a magazine article, and ever a rational actor – or is he? – Ike hatches a scheme to steal his village's war god, Ngene. He will sell it, he hopes for many thousands of dollars, at a New York City gallery called Foreign Gods, Inc. And that, he trusts, will solve all of his problems: the financial needs of his mother and sister in Africa, not to mention those of his American ex-wife. And possibly even his own.
Ndibe shows the action in some detail, letting the reader experience the sights and smells, small putdowns and daily humiliations of Ike's daily life. It's a bit slow for the New York sections, and the novel really gets into gear as Ike lands in Lagos on his way to Utonki. Ndibe is adept at getting across the pace and heat and smells of Africa. There are many petty bureaucrats, each of whom needs an equally petty bribe before Ike can pass. Ike's mother has become a devotee of a Christian priest who Ike quickly concludes is a fraud.There are many, many encounters with old friends, unknown nieces and nephews, former girlfriends rendered prematurely old by their difficult lives, and Ike's mother, sister, uncle, and grandmother. Everyone wants a piece of him, but Ike, of course, wants to take a piece of them too.
Ike has risked everything on this scheme: he's maxed out his credit cards, quit his job, ignored the signs that he might be the next high priest. He is willing to alienate himself from and even betray his family: His uncle is Ngene's high priest and keeper of the statue and the shrine. Yet "misunderstanding" doesn't begin to describe the consequences of Ike's actions.
Naturally, Ike's problems are only compounded, as he discovers when he returns to his tiny Brooklyn apartment. He's detached himself from Africa, and discovers, only too late, that he's evidently detached himself from America too. Is his crime the result of his detachment? The consequence? Let us know what you think in the comments.
Have a book you want me to know about? Email me at asbowie@gmail.com. I also blog about metrics at asbowie.blogspot.com.