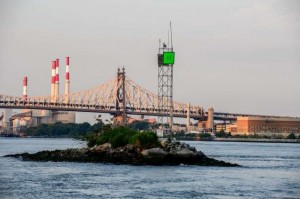 The Remarkable Mystery of Flight 370 – still unsolved as of this writing – has the world enthralled.  And it reminded me of a man I once knew who was a solver of great mysteries such as these.
Our story starts on U Thant Island.  As you know, U Thant Island is that tiny rock that lies in the East River just south of Roosevelt Island.  It is the smallest of Manhattan's many Islands, and is named for the beloved Burmese Director General of the United Nations, Dag "U Thant" Hammarskjold.
In the early 1970s, U Thant Island had only one resident:  the legendary spiritualist, psychic researcher,  and cosmologist Artemis Kenyon.  Kenyon, who lived in a hole 12 feet deep and four feet wide carved into the living rock of the island, had been given the property by the United Nations as thanks for his work finding Hammarskjold's plane after it mysteriously disappeared in 1961.  Kenyon's specialty was solving aeronautic mysteries that could not be resolved via more conventional means.
How did I meet this remarkable man?  In late 1972, a plane carrying Congressmen Hale Boggs and Nick Begich vanished in Alaska, and I visited Kenyon for his assistance with a piece I was writing on the strange disappearance.
Kenyon, who ritually dressed only in baseball shirts once used in actual Negro League Baseball Games, offered me a cup of Lichen tea, which I politely declined, and an odd candy of his own invention fashioned out of dried eel and caramel (which I accepted; it tasted like the bile of the elderly). He then shared with me the 60-volume history he had written, in verse, of the legendary lost world of Mu.  Kenyon claimed that the massive work had been dictated to him by an elder spirit of Mu named Chappy of Çatalhöyük, Tighearna (God) of the Pipe-Whistle. Inexplicably, Kenyon had written the massive tome in a recently dead language called Jassic, a Hungarian dialect that appeared to have become completely extinct some time in the 19th Century.  Confiding in me, Kenyon explained that the 60-volume epic was really a hidden history, masked in metaphors and riddles, of the fairies and demons who hide in the ether and direct traffic in the sky.  He further explained that all of his clues regarding the many aviation mysteries he had solved over the years came from interpretations of the Mu text.
Artemis Kenyon was a remarkable man.  He died in 1977, mysteriously vanishing during that summer's great blackout, his remains not turning up until 1980, when they were found in the meatpacking district by a film crew working on the movie "Cruising."   Kenyon's great history of Mu's ethereal spirits was never located, nor was it ever copied; but I am quite sure that somewhere in its' lost pages, decipherable only by the great Kenyon himself, lies the answer to the puzzle of flight 370.
Kenyon, incidentally, was the father of high-spirited TV-taxi film crit  Ignatius Malachy "Sandy" Kenyon.  In fact, when you hear Kenyon screech "I'm Sandy Kenyon!" he is actually saying "I.M. Sandy Kenyon," paying tribute to the full name given to him by his father Artemis and his mother, TV funnygal Judy Graubart.  Oh, and Artemis Kenyon's daughter from a prior marriage was long-time Orson Welles paramour, Oja Kodar.  What a remarkable man!
AND NOW IT'S TIME FOR THE THREE-DOT ROUND UP!  Hey, you know who loves Brooklyn Heights?  I do, that's who!  My love affair with this neighborhood is legendary, I mean Steve McQueen and Ali McGraw couldn't hold a candle to us.  But why can't I get a pint of Ben & Jerry's after 10 PM?!?  Like you, like me, like noted Ben & Jerry's fan Ted Bessell, I love me some sweet n' cold stuff with lot's of gooey an' chewy an' crunchy stuff inside, but the nice gents at the all-night candy store near me ONLY have Haagen Dazs, and Mr. R. E. Markable (that's me!) has NO darn idea where somewhere is open that might sate my late-night craving for a trough of da good stuff!…Best o' luck to the brand new People Who Dyed hair salon on Clark Street! (do I get a free trim for that plug? Here's hopin'!)…Here's somethin' logical:  CHEESE is made from milk, an' MILK CHOCOLATE is made with milk – it was only a matter of time before someone blended the two and made Chocolate Cheese!  Well, hooray for the weird beards at Curds and Wythe on Wythe Street in Williamsburg, who have been making artisanal cheeses and dairy products from their storefront at Wythe and N. 1st for a little over a year now.  They've just come out with not one but TWO varieties, Monster Muenster Mocha and Chewy Chocolate Cheddar.  How do they taste?  Well, imagine licking the deck of a slave ship  (jus' jokin', guys – we kid everyone here at RemInfo HQ! Tho' next time be a little less stingy with the free samples)…I wanted to note the sad passing of Dario D'Abbruze, a/k/a Roslyn Kind-Of, the world's best known (and only!) Roslyn Kind impersonator.  As you all know, Roslyn is the super-talented singin' sister of superstar Barbra Streisand, and dear sweet Dario created his own niche in the crazy, mixed-up industry we call Le Biz by devoting his too-short life to honoring Ms. Kind's considerable skills and style.  Dario was 62, and a memorial concert is being planned, so watch this space for details… Hey, if you want to spend a compelling evening at the theatre, I highly recommend the Prospect Players' production of an exciting new play, It Should Happen To You (It Happened to Me), a one-man show based on the life and loves of Peter Lawford.  Brooklynite Kevin Hogan does an absolutely stellar job making Lawford's legendary trials and tribulations come to life…AND THAT'S WHY I LOVE LIVIN' IN BROOKLYN!
(Mr. Sommer's opinions and grasp of reality are very much his own)
Tim Sommer has achieved some small degree of note as a musician, record producer, DJ, VJ, and music industry executive.   He is currently teaching a class at C.W. Post on the semiotics of Mantan Moreland's famous "Mashed Potato" joke ("Lexicon, Language, and The L'il Gal in the French Maid's Outfit"), and he continues his efforts to get Ron Swoboda into the Baseball Hall of Fame.