Linda Rizzo is a DJ and photographer whose efforts do great honor to the ghosts of the Kingdom of the Outsiders: her visual work is alive with peeling window sills,  brash bodegas, and  shadowed skyscrapers. Behind the turntables she respects the disparate din of New York, sounds danceable and punkable and trashbilly-rilly-sock'em-rockable.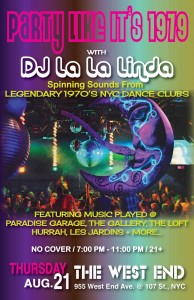 Linda – under her DJ persona, DJ La La Linda – is DJ'ing tonight at The West End, 955 West End Avenue at 107th Street. The theme of the night is Party Like It's 1979, and Linda promises to spin the music you would have heard in the clubs at that extraordinary time.
This got me thinking…1979 was my first year as a full-time resident in that grim and glittering, peculiar, perfect, slanting, shitty, shadowy, spectacular land that was New York, New York 1979.
In 1979, even if it was a chilly November of the Soul on the outside, the inner spirit smiled brilliant and full of bright pretension. The Soho Streets were still gold-dark and full of aqua-green stairways to paradise and art, the East Village was still gutted and hazy with the smoke from eight dozen garbage can fires, and the Upper West Side was still Needle-Park shabby and chilly with wind-tossed garbage; and there were a half-dozen clubs or more, dim cellars like TR3 or mirror-brite discos like Hurrah, where we watched bands and heard new records and cheered local heroes and conquering Britishers, 4/5/6 nights a week.
Inspired by Linda's event, I considered the following question, and considered it quite gravely: when I walked into those clubs at age 17/18, WHAT SONGS WERE BEING PLAYED? What music – and I mean specifically DJ music, not the live music on stage – accompany the memories of my evenings in the music clubs of NYC during that extraordinary time?
So I tried to bring myself back to that time, tried to sense
those rooms (smelling of cigarette smoke and sweat and fruity alcoholic drinks and the odd rusty odor of tip-change piled on the bar),
and I tried to focus only on the DJ music, and not on
the bands (thin-legged and spiky-topped and clad in black or metallic blue),
nor the treasured trips to and from the clubs (cold walks down Canal Street, wide cruel and bright, and long 3:38 AM waits in briny and empty Columbus Circle Subway stations),
nor the company I kept on these visits (friends wide-eyed and NYU snarky like me, or kohl-black-eyed girls in long-white shirts and fishnets);
and I asked myself, which is to say I asked memory, that unreliable and ecstatic witness, to recall the DJ music filling the room. Oh, and I expanded the parameter through 1980 (and a wee bit of '81 may have even limbo'd under memories' shaky bar). So here's what I came up with — not an attempt to reflect my favorite songs or favorite bands — but what I recall as the DJ soundtrack of those evenings:
1. "PLANET CLAIRE" THE B52s

I still cannot hear this extraordinary track without thinking of emerging from the gray landing at the top of Hurrah's stairs onto the candy-lit, mirror'd dancefloor/bandroom. Perhaps this was playing the first time I ever walked into that historic room (I think – though I am not certain – to see the Yachts). The tic-tock signal indicator beat, the pronounced and well defined highs and lows, and the sinewy kitschy/sexy "Peter Gunn" riff makes this perfect for club play. As an aural-sensualists aside, the moment at 1:15 when the LOW bass comes in under the riff is one of the top 25 goose-bump moments in pop music.
2. "AIN'T YOU" KLEENEX

This beautiful, strange foreign artifact of punk/noise/screech/Kinks-riff via Wire/big beat anticipates about half a dozen different major movements in music; it's a terrific 45, and a reminder that there were some brave discos where you could play this kind of muffle-drag garage holler right alongside the Chic songs.
3. "GANGSTERS" THE SPECIALS

The swooping, skipping bass – sounding like Wobble with a hot thumb up his ass – made this perfect for the big club sound systems, and the chop-chop-ska-cha-cha and whiney post-punk vocals made this just right for NME-reading trendsters eager to slap the slabby bottoms of their creepers onto the dance floor. I will also note this: the very first time I heard this song it was played at the wrong speed – at 33, instead of 45 – and I thought it was a very amazingly fucked up PIL song.
4. "ENOLA GAY" ORCHESTRAL MANOEUVRES IN THE DARK

Just a gorgeous, emotive, evocative song, it moves and flies and gums up the memory apparatus, with a cinematic spread tailor-made for club P.A.s. From the time when us college-rock geek types made no real distinction between synth/drum machine driven music and the latest punk rock, post-punk, neo-soul, or ska song.
5. "BELA LUGOSI'S DEAD" BAUHAUS

See, a lot of these songs have GODDAMN BIG BASS on them, because that's what sounded GREAT over the club sound systems, especially the well-tuned-for-dance ones at Hurrah And Danceteria. Once PIL and Joy Division opened the door for songs that retained a relic of punk's attitude but were centered around bass and drums (and used guitar for color, not attack), a lot of intense and riveting music followed. Despite the clear PIL antecedent (for, indeed, Public Image Limited were the Ramones of space'n'bass post punk), this was, is, and always will be a very rare and compelling track.
6. "I WILL FOLLOW" U2

When this first came over the speakers in the fall of 1980, you immediately sensed that something very remarkable was going on: the bass – once again, bass, bass, bass, bass, bass – was all PIL (in fact, the bass part itself is virtually identical to "Public Image" by PIL, and that's most certainly NOT an accident); but there was a skip to the guitars that recalled the Skids, a precision and poise to the vocals that bought to mind Ultravox's Midge Ure (and like Ure, was completely removed from any of the grunt, groan, or hoarseness of punk), and a sheen to Steve Lillywhite's production that seemed to have more in common with classic rock than the more brittle and close-mic'd work of popular punk/post-punk producers like Martin Rushent or Craig Leon. Which is to say, that this track really announced itself – it was not a desperate or overt plea for success, more like a charismatic appeal for timelessness — and made you very, very curious about what was to come.
7. "BABYLON'S BURNING" THE RUTS

I'm not sure a better true punk rock dance song was ever recorded; the hugely adept rhythm section is clearly rooted in rocksteady skip and are thinking they are making a dance song, but the vocalist and guitarist know this is a punk rock anthem (though the guitarists right-palm string-mute also alludes to UFO and Judas Priest). Wrap four stunning, sincere musicians in a ball, bounce 'em down a staircase which starts in a punk rock pub but ends up in a disco, and add a stirring reminder that Ferguson, Missouri and all the Ferguson, Missouri's are just a day away, and you've got a monster track.
8. 'MODERN DANCE" PERE UBU

Like the Kleenex song discussed above, this was just one of those very fucked-up, metal-bucket-kicked-down-the-train-track songs that gorgeously passed for dance music at the dusk of the 1970s. Listening to it now, on one hand it sounds about thirty years ahead of its' time, and on the other hand it sounds like the progenitor of every aspect of R.E.M.'s sound that wasn't borrowed from the dB's.
9. "OPTIMO" LIQUID LIQUID

When this herk-jerk hop-an'-bang big bag o' rhythm came over the PA, you were happy and freaked out; there seems to be some allusion to Pere Ubu and the random snaps, clacks, honks, chugs, chimes, and thumps of New York City's streets, but beyond that, this was all fucking new, and Liquid Liquid remain one of the most original bands NYC ever produced, and a delightful reminder of the amazing, random goldshit that was played in dance clubs back then.
10. "CHANGE" KILLING JOKE

Again, with one-third of a century past, it's hard to visualize this as a popular song on the dance floor; but the beat, at least in the verses, is 100% neo-disco (even if the drums goes all flubby-wubby rock'n'roll in the chorus), the whole rhythm track shimmying over and under a rotating-motor of a riff that reinterprets the traditional James Brown funka-wunka over a Hawkwind chukka-chukka with a little bit of Steve Jones Pistolian slug-sound folded in (read that last sentence again, it's really worth it, and I swear it makes sense). By the way, if you take this song plus "Babylon's Burning," you have a forecast for the future of heavy metal, but one that didn't really come into fruition until well into the '90s.
Thanks for going down memory alley with me. P.S., isn't Vaginal Ultrasound a pretty good name for a band?