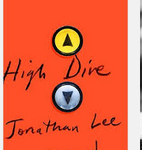 by Alexandra Bowie
Dan, a young Irishman, an electrician by trade, stays in a hotel in Brighton. He violates his instructions to remain unmemorable and flirts with the young woman behind the desk, who, we learn, is the daughter of the hotel's Assistant Manager. Then he checks out of the hotel, and she takes up with another young man. A few months later a bomb explodes in the hotel. Sometimes life leaves a lacuna, perhaps one of little consequence to the world but large enough for a novelist to slip through. In 1984, the Irish Republican Army placed a time delay bomb in the Grand Hotel in Brighton, where Margaret Thatcher, then the British Prime Minister, was staying during the Tory conference. The bomb exploded, and she was unhurt, though five people were killed. Eventually Patrick Magee was convicted of murder and other charges. That's the story Jonathan Lee builds from in his new novel "High Dive." Lee states in an Author's Note that the trial evidence suggested there might have been a second bomber. If there was, he or she has never been found. It's from this possibility that Lee has constructed his novel.
The novel opens with Dan's 1978 initiation into a paramilitary wing of IRA, a group he's longed to join so that he can improve life for Catholics like himself, a minority in Northern Ireland. His father died after being hit in the head during a march, and two of his acquaintances were killed by British soldiers. Dan's secret life is dangerous and not particularly fulfilling. In his open life Dan lives with his mother, in one of the few Catholic households on their street. He's an electrician, and twitchy, emotionally: tempers are frayed and threats have been directed at him and his mother, and that's before Dan gets to his feelings of guilt and anxiety about having built and placed several bombs that detonated.
Lee also follows a completely different family in Brighton, that of Phillip Finch, called Moose, the assistant general manager of the Grand Hotel, and his daughter, Freya. Freya has just finished school with very high marks on her university entrance exams, but she prefers not to apply, drifting through a year during which she swims and works the hotel's front desk. Moose hopes for more for his daughter. He was a champion athlete in his youth, playing football and cricket, swimming, ultimately taking up diving. The goal was to make the Olympics. Now his ambitions have narrowed and he would consider any promotion an achievement. Moose wants Mrs. Thatcher's stay to go well, and he wants to catch the attention of the PM, and he believes that a successful visit will mean promotion for him.
One of the very interesting aspects of this engaging novel is that for all his commitment to the Provos Dan is not a killer. He gets no pleasure from the bloodshed, which, as a bombmaker, he rarely sees. His story makes a nice contrast with that of Moose – who, in other circumstances, might have followed a different path. In middle age, despite his ambivalence, Moose can see some benefits to the Tories' 1980s slash, burn and privatise approach to governing.
The background issues are complex, as are the characters' response to them. Lee says, describing Moose's train of thought, "a couple of years ago it was impossible to sack bone-idle staff. They used to wave their union cards and grin, speak without respect." The serious themes don't prevent Lee from having some fun with life behind the scenes at a very grand hotel: employees take naps in guest rooms, but on the floor so that a made-up bed does not have to be smoothed. Moose contrasts the careful front of house decor with the beat up corridors and dark spaces of the service areas, and Freya watches the tricks the doormen and bellhops use to generate tips.
Dan, Freya and Moose come together not at the climax of the novel, but earlier, during Dan's visit. This makes structural sense: for all their different temperaments and places in life, each of the three main characters has lost track of the big picture. Yet each has a role to play in the history of their times, and each is tested, Moose and Freya by the bombing of the hotel, and Dan by the firebombing of his house: one is not a hero. "High Dive" is a thoughtful novel about growing up, about commitment to a cause, and about the costs of committing – or not. Read it for its fully credible depiction of stresses and tensions of the Thatcher years, and the completely understandable actions its compelling and likeable characters take in response.
Have a book you want me to know about? Email me at asbowie@gmail.com. Follow me on Twitter @abowie917.