The great moments of our history have been treated with memorable gravity in the pages of the New York Times.  July 20, 1969: MEN WALK ON MOON.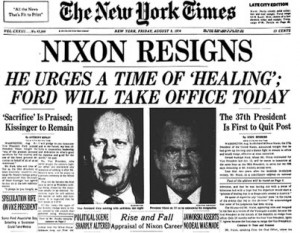 August 8, 1974:  NIXON RESIGNS.  September 11, 2001:  U.S. ATTACKED.  These are the milestone moments of our lives, expressed in simple yet supremely effective fashion via New York Times headlines; let us honor the march of history via bold font most solemn.
And friends, let us add to these moments of comfort and wisdom via America's Newspaper of Record this extraordinary opening line from an article in this past Sunday's Times:
"Being a teenager is hard – being the parent of a teenager is even harder."
APPARENTLY, sometime while I was watching the World Cup or considering the infinite superiority of King Kullen to Waldbaums, THE NEW YORK TIMES BECAME AN EPISODE OF BLOSSOM.  Because the above sentiment is something I hardly expect in the FIRST LINE of an article in THE NEW YORK FUCKING TIMES (out of respect for a fellow journalist, I refrain from mentioning the name of the writer; let's just say that her name begins with an "L" and rhymes with Lisa Damour).  I mean, I KNOW this whole teenage-parent thing must be hard indeed BUT I WANT TO READ ABOUT HAMAS AND IRAQ AND CARMELO ANTHONY AND SHIT, and YEH I'll tolerate the articles about Alan Cumming and THE DAILY rants about how Manhattan is the new Brooklyn which was the new Manhattan; but if you want to write things like "Being a teenager is hard – being the parent of a teenager is even harder" I will SIMPLY have to present you with The First Annual Noise The Column Mayim Bialik Award For Irrelevancy in the Newspaper of Record.
(And I DEARLY HOPE that Ms. Bialik, the VERY DEFINITON OF THE KIND OF SASSY AND OBERLIN-BOUND FOX I WOULD HAVE HAD A LIFE-ALTERING CRUSH ON WHILE I WAS AT GREAT NECK SOUTH, is not insulted by my appropriating her VERY HONORABLE NAME for the moniker of a Very Special Media Prize.)
I am sure the writer is a perfectly nice person.  I mean that.  I was just a little startled to encounter a sentence in the New York Times that, truly, seems better suited as the voice-over in a promo for Clarissa Explains It All About Being a Mom of a Teenager!
(YES I KNOW mixing up the whole Blossom and Clarissa thing is problematic, but I'M A GUY, WHAT THE FUCK DO YOU EXPECT, I AM TRYING MY BEST HERE, AND MY EDITOR JUST TOLD ME THAT HODOR IS DOING A DJ TOUR, SO I AM A LITTLE DISTRACTED, dammit.)
And now…MORE NEW YORK TIMES CORRECTION FUN!
This is one of the best ones ever, and I must credit poynter.org (via my great friend, the actor Kevin Hogan) for making me aware of this CLASSIC:
"Correction: June 19, 2014:  An article on Tuesday about Germany's 4-0 victory over Portugal at the World Cup misspelled the surname of the Portugal center forward who left the game with a leg injury. He is Hugo Almeida, not Almeido. The article also misstated, in some copies, the year Germany last won the World Cup. It was 1990, not 1090."
 Otto the Great was crowned in Aachen in 936, and then by the Pope in Rome in 962; the latter event, especially, marks the true beginning of the Holy Roman Empire, which is where the story of Germany, as we would recognize it, really begins.  Now, In 1090, the Emperor (also recognized formally as King of the Germans) was Henry IV; history tells us that circa 1090, Henry IV was consolidating his power after his historic invasion of Rome, during which he actually attempted to OVERTHROW A POPE, and install his own.  The history books, however, MAKE NO MENTION OF A GERMAN WORLD CUP VICTORY AT THE END OF THE 11TH CENTURY.  Honestly, I think it would have, if such a thing happened; Germans love their Footie, y'see.  But even though I can't find ANYTHING in the history books referring to it, according to the New York Times, the Germans won the World Cup in 1090, just 24 years after the Norman Invasion of England, and 840 years before the FIRST World Cup.
The Lesson Here Is This:  Dear NY Times:  Your words have comforted me and your articles have roused me to sundry levels of elation and indignation since I was an information-hungry child, lusting after Bialik-esque peasant-blouse'd-wearing Queens of the Island that is Long.  However, IF YOU ARE GOING TO MAKE A MISTAKE AS EGREGIOUSLY DUMB AS CLAIMING THAT GERMANY WON THE WORLD CUP IN 1090, or, for that matter, that METALLICA BEGAN IN THE 1970s, DO NOT DRAW ANY ADDITIONAL FUCKING ATTENTION TO IT.  Got it?
Or maybe HIRE SOME PROOF READERS and not just give the job to some freaking unpaid Syracuse Intern in a Kenny Rogers t-shirt that they wear ironically.  Seriously, New York Fucking Times, when will you learn NOT to trust proof reading to anyone who a) doesn't get paid b) knows someone who went to The Dwight School with the Strokes.  Seriously, man.
Finally, the World's Greatest Rock'n'Roll Bands are Neu! and Fu Manchu.  I shall elaborate on this at a later date.