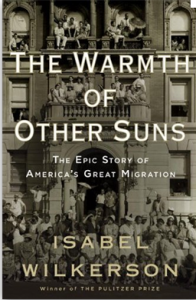 From about 1915 through about 1970 more than six million former slaves and descendants of slaves left the Jim Crow south and moved to cities in the north. As Isabel Wilkerson describes this important internal migration, "it was vast. It was leaderless. It crept along so many thousands of currents over so long a stretch of time as to be difficult for the press truly to capture it while it was underway." So, as she says, it is the most underreported story of the 20th century United States. Wilkerson's book provides the remedy, telling the story of the migrants and the migration in carefully researched and vivid detail.
Using interviews, scholarly work, newspaper articles, and public records, Wilkerson pieces together the big picture: the millions who left, the family members and friends they left behind, who met them up north, and what supports they found when they arrived. Wilkerson shows that there were well-established routes, and that people from small towns or the countryside around them tended to go to the same place, following the rail lines. Many of the blacks in Detroit, for example, have roots in Tennessee, Alabama, western Georgia, or the Florida panhandle. Migrants from the eastern states ended up in Washington, Philadelphia, New York, and Boston. Those from farther west often continued west, ending up in California.
Wilkerson goes deeply into the various reasons people left: the sharecropping that left them barely enough to feed their families. The terror and the lynchings, recounted so vividly that they kept this reader up at night. And you can understand why the women agreed to go north; it was their sons, brothers, husbands, fathers and uncles who were routinely humiliated, or jailed, or worse. Collectively, these stories about the search for economic opportunity, not to mention civil, voting, and human rights, make a harrowing portrait of a shameful part of America's past. Wilkerson describes the fear, and the difficult escapes, in coffins, or crates, that some activists had to make.
Wilkerson tells the stories of three individuals interspersed among the more general narrative. These two men and one woman came from different parts of the south, and ended up in different parts of the country, one in New York, one in Chicago, and one in California. They emigrated from the south at different times over the years. One was a doctor, who achieved great professional success — at great personal cost — in California. One was a Pullman porter, who had a year or so of college but got married and dropped out of school. And the third took whatever work she could find, housecleaning or factory work, to support her family. Their stories illuminate the larger narrative, and their struggles resonate today.
"The Warmth of Other Suns" is a difficult book to read, not because it isn't well written — it is — but because the story it tells is sometimes so unbearable to think about. Do you agree? Let us know in the comments.
Have a book you want me to know about? Email me at asbowie@gmail.com. I also blog about metrics for people who hate numbers here.