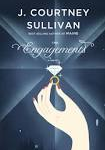 A Diamond is Forever, so the tagline goes, and the real Mary Frances Gerety who wrote it in 1947 provides the inspiration for J. Courtney Sullivan's recent novel "The Engagements." Sullivan fictionalizes Gerety's life story – she was a single, Philadelphia-based copywriter for the advertising giant N.W. Ayer. "A Diamond is Forever" was a throwaway, yet it became a meme that helped drive the establishment of the diamond engagement ring – an act now viewed as a tradition was initially a ploy to increase a market. Sullivan's novel traces the increase through the life of her copy writer, through the 4 Cs (you probably know what they are) through two months' salary (to make buying a diamond even more aspirational) up to incarnations like the right-hand ring, intended to appeal to modern women.
Sullivan adds several love stories to the central story, and then uses all of them to illustrate the change in the significance of diamonds over time and social class. There are Evelyn and Gerald Pearsall, an upper-class couple who marry in the 1930s, and then watch helplessly as their only son's marriage falls apart in the 1970s. James and Sheila are high school sweethearts; she's a nurse and he drives an ambulance. Their marriage is just as tight, but they struggle constantly with money. PJ, a concert violinist, and Delphine, who sells musical instruments, including a Stradivarius, from a Paris shop she owns with her husband, have a whirlwind romance. We are introduced to it in almost its last stages. And then there is Kate, who objects to marriage on political grounds. Her life partner, Dan, is willing to humor her prejudice, and they have a daughter, Ava. Their story centers on their roles in the 2012 wedding of Kate's cousin Jeff and his longtime companion, Toby. Ava is the flower girl, and Kate is in charge of the rings, each of which sports a large diamond.
The novel covers more than half a century, and sprawls over the Eastern United States as far west as Ohio, and to London and Paris. Sullivan uses the time and space to explore far beyond her central theme. Evelyn and Gerald struggle in their marriage but it never occurs to them to end it. Family is central, and the family unit, for them, consists of two parents and their children. That their son might separate from his wife, leading her to move the two children across the country nearer her own parents is nearly inconceivable to Gerald and Evelyn. Yet they adapt. As does the institution of marriage itself.
Kate and Dan similarly put their family at the center of their lives. Kate is deeply opposed to the idea of marriage, though from her thoughts and acts it appears that it's mostly the wedding she objects to. Her life with Dan is a marriage in all but name (and that's one reason most states turn such relationships into common-law marriages eventually). Kate and Dan have no objection to the marriage of Toby and Jeff, and Sullivan does a nice job with the ironies inherent in Kate's participation in this elaborate event. The plot here centers on diamonds, too, in this case one set in a ring that is misplaced.
There are other plots, subplots, and themes, and everything comes together in a very satisfying ending. "The Engagements" is a rich and surprisingly gripping novel, one that I would happily take on a long plane ride. Do you agree? Let us know in the comments.
Have a book you want me to know about? Email me at asbowie@gmail.com. I also blog about metrics at asbowie.blogspot.com.